Peewee
---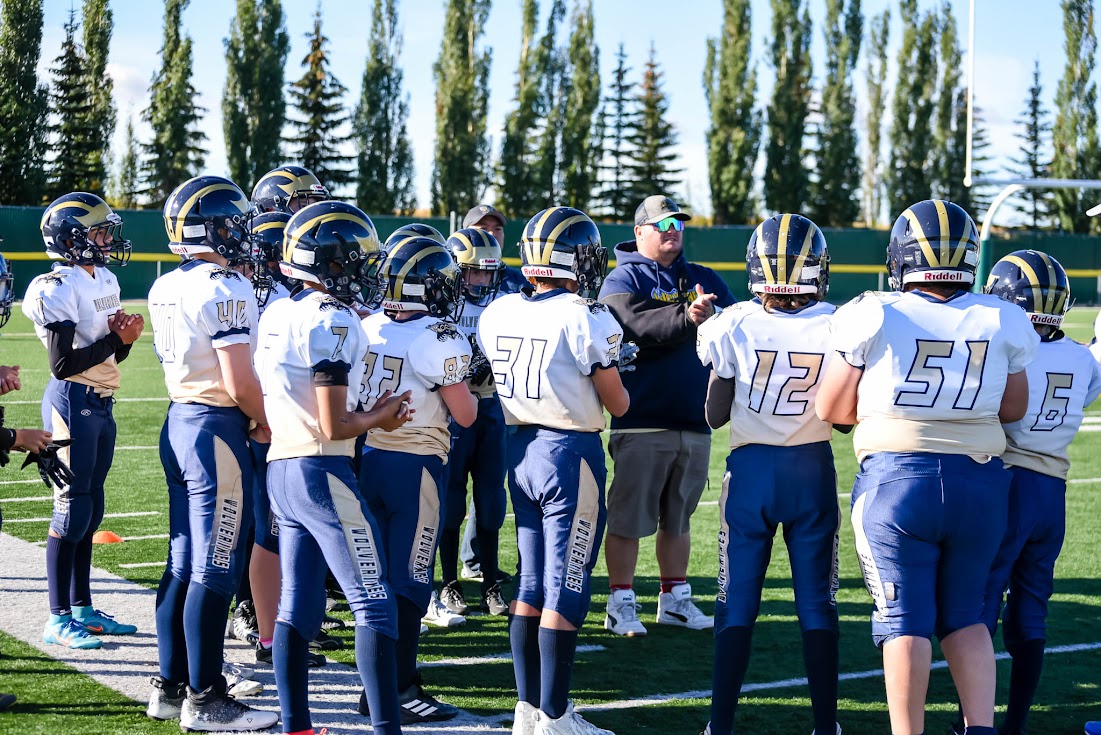 Peewee is an intermediate team within tackle football. Athletes aged 11 and 12 in the calendar year. Peewee plays 9-a-side on a modified field allowing for a more gradual progression to 12 a-side football at Bantam. All players learn safe contact and fundamentals, while continuing to focus on skill development and teamwork. Skill development at this level becomes more position specific.
Spring Session is no-equipment and non-contact. This will be offered in May/June as an introduction to football.
Regular Season begins late August and continues to the end of October.
Practices will begin the first week of August and will held at the Emerald Hills field.
Games are held once per week. Game locations are in the City of Edmonton and surrounding areas.
Equipment Provided
Helmets
Shoulder Pads
Game Pants, Knee Pads
Practice/Game Jersey's
Practice/Game Pants
Mandatory Equipment - NOT PROVIDED
Football Cleats (or acceptable rubber cleat alternative) - No metal cleats
Quality mouth guard
Football/Sports Girdle (w/ Hip, Thigh pads and Tailbone pads)
Coaching Staff
| | |
| --- | --- |
| Mike Hill | Head Coach |
| Travis Kemp | Peewee Director/Head Coach |
| Mike Sakaluk | Assistant Coach/Defensive Coordinator |
| Mike Hunka | Assistant Coach |
| Eben Burton | Assistant Coach |
| Glen Meheriuk | Assistant Coach |
| Abe Chang | Assistant Coach |
| Heather Hill | Trainer/Photographer |
| Ray Bicknell | Trainer |
| Kitreena Cooper | Team Manager |
CLICK HERE TO REGISTER